Sunny Soles 1-4 - 9/30/06 - see more photo sets
- Sitting outside of a coffee shop this time around, when I caught a young hottie with her shoes Off! - She then slips them on and off, on and off for the duration of this set; like usual I was able to find a nice lookin girl in public, casually showing off her feet. These pics are so hot. 100 photos in each - parts 5-8 coming soon.
Nice girls' feet - 10/13/06 - see more photo sets
- Two is always better than one - The first thing I noticed was the girl in black's sexy bare soles. Then as I sat down I noticed the blonde's feet & very sexy legs. You're gonna like this 5 part set - with parts 6-10 following soon. Over 120 photos in this set. If you've noticed our sets are getting BIGGER - lots of hott coffee shop candids are on the way!
Light Blue Flip Flops set 1 - 3/25/06 - see more photo sets
Sometime around last year I stopped in a bookstore to read up on a few things and was distracted by the beautiful bare soles of a studious asian girl just across the way. She kept playing with her flip flops, so I pulled out my camera and took a few photos. 100 photos in this set that you're gonna enjoy.
Hott Asian Bookworm Feet pt2 - 9/30/06 - see more photo sets
Hott Asian Bookworm Feet pt1 - 9/5/06 - see more photo sets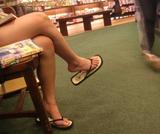 Especially part 4 - why? It''s a short set, only 69 photos in it, but there are some Fantastic views of this girls feet. I had to be extra sneaky with this one; Sat right next to the girl - who was so focused on the book she was reading, she did not see me taking pictures of her feet; If you love feet you will love the shape of this asian beauty - and watch what she does with her feet! 99 photos in this set, download them now!
Hot Bookstore Set 1 - 5/11/06 - see more photo sets
Had a great time at the book store on this day. The First girl I saw had beautiful feet. She was asian, about 5'4 and her feet looked like they were at least 8 or 9's - She was reading a book and didn't notice me taking pictures of her beautiful bare feet, in white flip flops. Yummy 67 photos of her are in this 107 photo candid set - 40 of which are pretty hot, and include a handful of this hot asian girl in the jean shorts. Very nicely shaped feet & toes - 'slight' corn problem... but very nicely shaped feet, by all 3 of the girls feetured in this Hot Bookstore Set. Especially the hot latina in green, reading a magazine - that went well till her bf showed up.
Gucci Bag Girl - 1/2/06 - see more photo sets
- I may have my purse brand names mixed up - but it looks like a gucci bag - anyways, I spotted these sexy feet and sat down to get a few pics. However, her damn gucci bag was in the way - at least kind of - That's how this set starts off, but wow - she must've read my mind because she moves it and gives me the greatest view of her sexy soles. Her friend had nice feet too, so look for some of her toes in a few of these pics. There are 109 quality photos in this set, download it today
Green Girl - 02/04/06 - see more photo sets
I like to read. It's good for the mind, but not only that - I always notice lots of barefoot girls and flip flop girls seem to love reading too. So now, when I go to a bookstore, I bring along my camera - I saw beautiful long legs, and went for a closer look at her feet. Her green sandals show off her beautiful natural toes. 64 photos in this set, Video coming Very soon.
Green Coffee Girl pt. 2 - 6/23/06 - see more photo sets
- Good candids are all about "angles" - Part 2 picks up where part 1 left off. Her foot remained pretty relaxed for the first 10-20 pics, but then she gives us a great sole show - Believe me, I keep all of you in mind while I'm out snapping these juicy Sole candids - I look for angles like these. Download all 70 photos in this hott photo set. Even better coffee shop photo sets are on the way!!
Green Coffee Girl pt. 1 - 5/18/06 - see more photo sets
- Good candids are all about "angles" - You've gotta be able to sit where the girl won't notice that you're taking photos of her feet that you plan on going home and jacking off to. So sometimes I have to be creative. This girl was sitting just outside the coffee shop. There was no angle to see her delicious soles without sitting inside the shop, and focusing in on her soles from there. Thankfully, they had clean windows. 71 photos in this set, with part 2 coming Very soon. Download today and enjoy these beautiful soles, exposed by a girl with sexy light green flip flops on her asian feet.
Blue Jean Sandals - 10/4/06 - see more photo sets
- And now for something I've never seen before - Blue Jean sandals! I came across a pretty hot blonde outside of a coffee shop, wearing a striped blue shirt, blue jeans, and sandals to match - Literally - this is a BIG Set with over 140 images of this hottie hanging out; Unknowingly posing her beautiful blonde feet for BarefootCandids.com
Black Heels & White Dress 2 - 8/13/06 - see more photo sets
- 85 sexy photos of these feet in part 2! She's got one great french pedicure - and I was sitting close enough to not be noticed, somehow she was so busy with her conversation that, thankfully she didnt notice me. Because of that you will be able to enjoy the beautiful shape of her arches - and the legnth of her toes. mmmmm - great set for guys who love toes and feet in heels.
Black Heels & White Dress 1 - 8/8/06 - see more photo sets
- 84 really nice photos from outside a coffee shop where girls seem to enjoy sitting and talking. Oh, and of coure their feet are nice and bare, exposed to the world to see and admire. Look at this hottie's pretty long toes and how nice her feet look while wearing these black heels. Her white dress looked nice on her aswell and you'll see more of that in part 2 of this set, coming Very soon.
White Pants & Jeans - 11/13/08 - see more photo sets
72 photos of a mixed set; Two barefoot asian women in a local library - taken back in 2007 - One thing about Candid Photos that differ from Videos is, Feet Move. A few photos in the Jeans set are Feet "in motion" - she's got lovely shaped feet, great lookin toes - our lady in the White pants is on the 'bigger' side, but also has lovely feet - nice and clear pics for her.
Latin Soles, Torn jeans - 12/12/08 - see more photo sets
Our Photo sets are divided into 6 main categories. Named after the locations where I usually find these beautifully bare feet. Those categories (or collections) are: Library, Coffee Shop, Book Store, Courtyard, Malls, & our Random HBW Collection. Join here for INSTANT Access to all of our High Quality photos. All women photographed were believed to be 18 or older at the time of shoot.